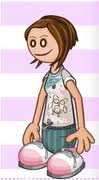 Mandi is a customer of the restaurants at Papa Louie Arcade.She later acts as a worker at Papa's Wingeria after winning an expense paid trip to Starlight City.
Appearances
Edit
Mandi has short brown hair.She wears an Owly Tee and pants that are gray with an anchor belt.Her shoes is tipped with light pink colour.She appears to have long hair at her first appearance.
Her orders at restaurants are:
Papa's Pizzeria
Edit
4 Pepperoni (Right Half)
6 Mushrooms (Top Half & Bottom Left)
Pizza cooked for 30 Minutes
Cutted into 8 Pieces
Papa's Burgeria
Edit
Top Bun
Tomato
Lettuce
Onion
Ketchup
Cheese
Medium Patty
Bottom Bun
Papa's Taco Mia!
Edit
Cheese
Tomatoes
Sour Cream
Brown Rice
Steak
Soft Taco
Papa's Freezeria To Go
Edit
Medium Cup
Strawberries
Strawberry Syrup
Regular Blend
Strawberry Fluff
Chocolate Topping
Rainbow Sprinkles
3 Cherries
Papa's Pancakeria
Edit
Meal
Raspberries
Whipped Cream
3 Blueberry Pancakes
Papa's Wingeria
Edit
1 Blue cheese dip
4 Carrots
8 Barbecue strips
4 Buffalo wings
If you are not playing as Mandy,she will be a customer instead.
Gallery pics may be viewed here.
Edit
She is married to Tony and has 2 daughters named Sidney and Jordan with Tony.
- Flipline Studios
110