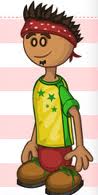 Alberto is a customer in Papa Louie's restaurants.He is a playable character at Papa's Freezeria alongside Penny.He and Penny were number one in the Customer Chart Rank in Papa's Freezeria.He also likes Strawberries.He is revealed to be Brazilian-American.You can see Alberto at the Freezeria if you are playing as Penny.
Appearance
Edit
Normal Outfit
Edit
Alberto wears a polka-dot bandanna and pants,a yellow and green T-shirt with green stars.He has brown shoes with green laces.He has spiky dark brown hair.
Chef Outfit
Edit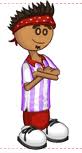 He still has his bandanna and red pants.He now wears a coat with red collars and striped with purple and white.His shoes are now white with black laces.
Orders(Papa's Burgeria)
Edit
Top Bun
Tomato
Cheese
Medium Patty
Cheese
Medium Patty
Onion
BBQ sauce
Bottom Bun
Papa's Freezeria
Edit
Small Cup
Chocolate Syrup
Strawberry Mixable
Regular Blend
Whipped Cream
Strawberry syrup
Banana
Cherry
Banana
Papa's Pancakeria
Edit
2 Pecan Waffles
Sugar
3 Bananas
3 Strawberries
Raspberries
Small cup
Orange juice
Ice
Papa's Wingeria
Edit
4 wings
Calypso Sauce]
8 celeries
Mango Chili dip
Papa's next Chef
Edit
Alberto was placed at the Pepperoni Division and defeated roy by 1 vote.However he lost to Carlo Romano at Round 2,who was eventually going to represent the Pepperoni Division.